When a trip to Walmart involved a tantrum and accusations of abuse, I learned to see the best in people.
It was the middle of the Kindergarten Year From Hell.  B was two – a tightly wound package of tenacity operating on filched Hershey Kisses and six hours of sleep a night.  We dropped her sister off at school, and though I knew I should go straight home, I stopped at Walmart for a few items.
The store was largely empty at 8:15 that morning.  My cart's wheel rattled like the gates of the underworld, a fitting omen I ignored.  Attempting to exit the store prior to a meltdown, I forged onward into the breach, sliding graham cracker peace offerings to my sleepy toddler.   
But it was not to be.  As we walked past the accessory department, B's eyes landed on the toddler equivalent of the one ring:  a sparkling pink purse, bedecked with rhinestones and glitter, and, ever-fetchingly, shaped like a dog.
My little Smeagol stared at the purse.  She turned to me.  
"Mommy?  Can I get that?"
Walk a little faster, Ginny.  Keep on moving.  Distraction, distraction, distraction.
"Mommy!  Dog purse!"
I patted Smeagol on the head.  "No, love.  Not today."  
You know that scene in The Lord of the Rings when Gollum gets all bug-eyed crazy?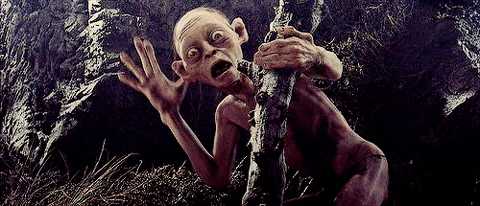 Yep.  Not even close.  You would have thought I had killed her goldfish the way that child lit into me.  In the Kochis Family Book of Grandest Meltdowns of All Time, this is number two (number one was courtesy of her older sister, an infinite road trip, and a missing brownie, but I digress).  There was screaming.  Crying.  Wailing and gnashing of teeth.  And if that wasn't enough, there were desperate cries for her father:  
"I want Daaaaaadddddyyyyyyy.    IIIIIIII waaaaannnntttt myyyyyy Daaaaaddddyyyyyy!!!!!!"
In her defense, she was two.  She was also super tired, super anxious, and super effective at soaking up all the stress in the household.  I tried to keep that in mind as I made my way down the aisle.  
I didn't get far, though.  A woman came up beside me, her brows furrowed, lips pursed in a frown.  
"Is she alright?  I could hear her from across the store!"
I had been a mother long enough to know when someone was genuinely concerned or about to offer a scolding.  This was clearly the latter.  
"She's fine, ma'am.  She's just mad I won't buy her a doggy purse."
"Why is she screaming for her father?  Are you pinching her?"
Say what?  
"You must be pinching or hurting her somehow.  None of my kids ever did this!"
My hand slipped off the cart handle, slick with nervous sweat.  My legs wobbled.  My throat tightened.  I think I just looked at her, wide-eyed, muttered something about never, ever hurting my child, and took off down an adjacent aisle.
But she followed me.  All through the store – food, housewares, pharmacy – she stayed about ten steps behind.  B eventually calmed down, only to start up again once we reached the checkout aisle.  She wanted a gourmet lollipop.
I said no.
"DAAAAAADDDDDYYYYYYY!!!!!!!"
The woman reappeared in an instant.  "You are abusing that child.  Normal children don't do this.  What are you doing to her?!?"
My face flushed.  Tears pricked my eyelids.  The entire population of the store's front end was fixated on the unfolding scene.  
Escape.  Get to the door.  Get out to the parking lot.  Get in the car.
Now that I am far removed from the moment, I can give that woman the benefit of the doubt.  
I would like to think that she had no ill will in her pursuit as she followed me out of the store, even though her continued accusations bit the back of my neck.
I would like to think she spoke up out of true concern for my child, even though she did not cease when I assured her all was well.
I would like to think that we might be friends given other circumstances, even though I cried in my car for a solid ten minutes, rehearsing what I would say to CPS when they arrived.
I would like to think all of that.
All I can do for certain is forgive her, and hope I am forgiven, too. 
I have been like her.  
I have questioned parenting choices, judging decisions and labeling them detrimental. I have assumed the worst of others as my accuser did of me, reveling in my superior detraction. I have been remiss in my duty to give to others what I needed on that morning: a kind word, a knowing smile, a genuine "I've been there."
Being a parent of is hard.  There are sleepless nights, repetitive conversations, and unbelievable tantrums.  As long as we are in this beautiful mess together, raising good little people who will someday inherit this earth, why can't we assume the best of others, and, in so doing, teach our children the same?   Civility, gentleness, compassion, and empathy need a comeback, and we as parents are poised at the top of a watershed opportunity for its return.  
So I will start here, at the intersection of appearance and reality. I will believe that those I encounter have the best of intentions.
Can I count on you to do the same? 
[rad_rapidology_inline optin_id="optin_1″]