Do your kids love Lego? Would you like to give them a firm foundation in the Catholic faith? Check out these 6 awesome Lego resources for Catholic kids and families. You'll be Master Builders of bricks and the Church in no time at all. 
This post contains affiliate links. Please see my disclosure policy for details. 
I've seen the Lego Movie once, and not even all the way through. It's bright. And loud. And a little, well, psychedelic.
Despite all that, I was able to gather at least the main plot line. There' a bad guy called Mr. Business, a super weapon called the Kragle, and a team of elite Lego minifigures banding together to find the Master Builder –  the Lego who holds the key to…
Something.
I didn't quite catch that part.
Lego: a Tradition for Generations
That a Lego movie was made and experienced commercial success is a sign of how ingrained the building toy has become in our collective social consciousness. I grew up building with Legos. My husband grew up building with Legos. I'm betting you probably grew up building with Legos, too, and that, like mine, your home is filled to the brim with boxes of plastic bricks. Lego has been around for decades, an educational, creative staple since 1932. It's an iconic, traditional part of childhood handed down through generations.
It's also the perfect way to teach our children about the faith.
Becoming Master Builders of the Faith
I admit – I probably wasn't paying enough attention to the Lego Movie to grasp the importance of the Master Builder. But I will say that hearing the phrase brought to mind this passage from Corinthians:
According to the grace of God given to me, like a wise master builder I laid a foundation, and another is building upon it. But each one must be careful how he builds upon it, for no one can lay a foundation other than the one that is there, namely, Jesus Christ. (1 Cor 3:10-11)
In this letter to the Corinthians, Paul makes reference to the formation of the early Church. He offers a gentle admonishment, calling to mind the great responsibility borne by those who seek to build the Body of Christ. As parents, this is our responsibility. The propagation of the faith has been handed down to us. Every facet of our parenting should lay a firm foundation for the faith of our children.
We are the Master Builders, fashioning the future of the Church.
6 Awesome Lego Resources for Catholic Kids (and Moms, too!)
Most people would take that statement figuratively, and I think that's fine to do. But I also believe we can teach our children to be literal Master Builders with Lego. There are so many creative, Catholic resources involving Lego it's hard to imagine why we wouldn't combine faith formation with play.
The Catechism of the Seven Sacraments by Kevin and Mary O'Neill
Two years ago, Kevin and Mary O'Neill had an idea. They had found serious issues with another widely available Bible-based Lego resource and decided to create their own. Enter The Catechism of the Seven Sacraments, one of the most theologically sound resources available for catechesis. The O'Neills paired their in-depth explanation of the Sacraments (including Eucharistic typology!) with over 1,000 Lego scenes designed, built, and photographed by their children. It's an amazing, beautiful resource for Catholic families. You can hop over and read my full review here.
Lego Rosaries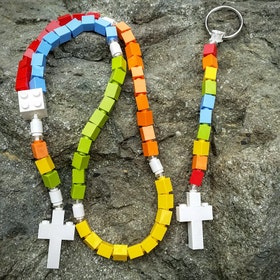 Lego Rosaries from Memento Moose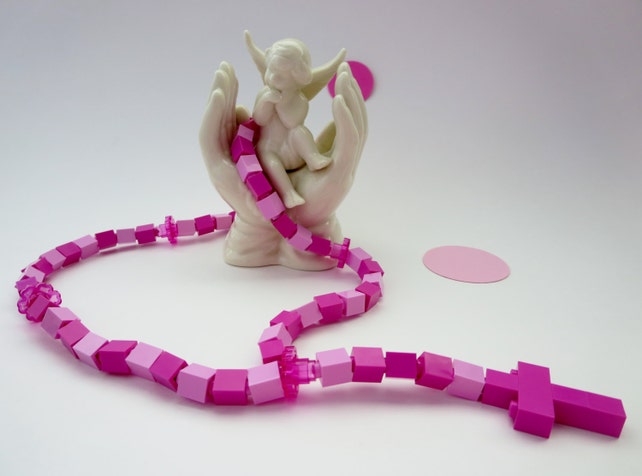 Personalized Lego Rosary from BareSock Crafts

I've long been a believer in the use of age-appropriate resources for praying the Rosary. We have two large wooden rosaries, a set of crochet roses, and small magnets for displaying the rosary on our
Visual Schedule board
. As my children grow older, though, I've started looking for a rosary to bridge the gap between childhood and adulthood. These
Lego
rosaries
fit the bill nicely, combining a favorite pastime with prayer. Feeling crafty?
Lego rosaries are also super easy to make on your own
. You've probably got most of the supplies already.
While you can always create your own Lego Mass set, this kit from Domestic Church Supply Company is an incredibly detailed labor of love. Created by a Catholic homeschooling dad, this Mass set comes complete with a paten, chalice, and Lego hosts!
Talk about building up the body of Christ – JM Kraemer of the Lego Church Project started his apostolate in 2000. For the past 18 years, Kraemer has designed, built, and displayed detailed replicas of Catholic churches entirely out of Legos. While his displays have mostly appeared in the Saginaw, MI area, Kraemer hopes to spread the news of his endeavor far and wide.
Christian Lego Inspiration
Got a few kids who'd rather build their own designs? Check out photos of this Lego Vatican built by a priest in Pennsylvania. Or the St. Benedict's Alpine Lego Church. You can also head over to Church Pop's gallery of 12 Amazing Christian Sculptures made of legos. Creativity breeds creativity, so you never know what your kids might come up with after taking a gander at these.
Lego Inspiration for Mom
Finally, I think it's important to mention that Catholic Lego inspiration isn't just for the kids. Feeling a little overwhelmed with the vocation set before you? Offer a prayer to Our Lady of the Legos, a sweet devotion started by Bonnie at A Knotted Life.
As a company, Lego makes it clear they are "committed to the development of children." Lego "aims to inspire and develop the builders of tomorrow through creative play and learning," a worthwhile endeavor that honors the dignity and potential of childhood.
While their mission is entirely secular, Lego offers a beautiful opportunity to root our children in the Catholic faith. So grab some bricks and get building – you'll strengthen the foundation of the Church. 
[rad_rapidology_inline optin_id="optin_1″]
Enjoy this post? Read on:
The Catechism of the Seven Sacraments: Catechesis for Gifted Kids
How to Keep Your Kids Catholic: Apologetics for Catholic Kids
5 Must-Read Books for Catholic Tots, Kids, Tweens, and Teens